Knowledge of appropriate manners and body language for an interview may help you with overcoming nervousness and used as a powerful tool to make a great first impression. Recent statistics show that 93% of all daily communication is nonverbal. Those numbers are astonishing and prove that non verbal communication is more precise and sincere than actual words. Words can be deceiving because verbal communication lies in the field of our consciousness while using body language we reveal our unconscious. It is poorly controlled or not controlled at all, showing our true feelings and intentions.
At the same time, our non verbal messages often disprove what we're saying. When our words contradict our gestures and other details of behavior the confidence an interlocutor could regain at the beginning of the conversation may simply disappear because most experienced and attentive interviewers trust gestures more than words.
Nevertheless, many people underestimate the importance of non verbal communication. This is a sad consequence of our education and upbringing; we are taught to pay more attention to the words than to the gestures they are accompanied. In order to master the "reading and writing" of body language and look more determined at a job interview, read this body language tips and find out how to make a great first impression to the employer and receive top scores at the interview.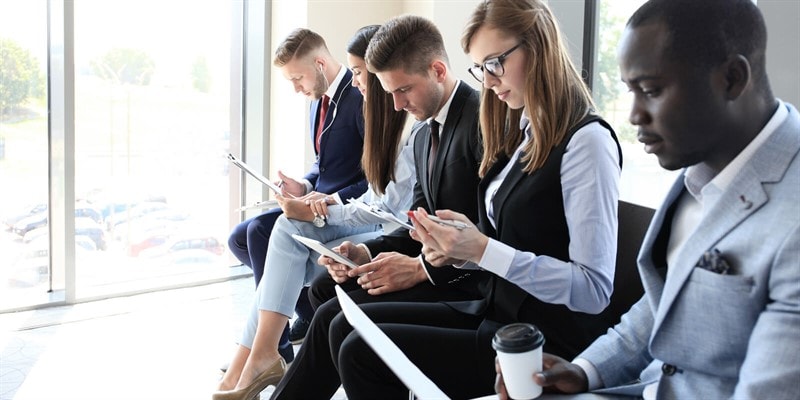 1. Hold your posture
Poor posture and sitting on your hands immediately conveys an alarm signal to your interlocutor. Combined with relaxed movements, it says that you are messy, lazy, do not control yourself and do not know how to behave in public. Correct posture says that you are attentive and well educated, ready to listen and be heard.
Accustom your body to keep straight and feel comfortable in this position. Practice more, preferably in front of the mirror; include special exercises to your daily schedule and you'll see the results. Always watch your posture, and not only before an interview or a meeting.
2. Control your extremities
Not only your torso, but the extremities should be also put under control. At the interview, it is absolutely forbidden to:
stand on your tiptoes
swing on a chair
shift from one foot to the other
wave your arms
Before the beginning of the interview, even if your interlocutor has already arrived, take your time, relax and pull yourself together. We are all humans and it is ok to show your excitement up to a certain level. Just calm yourself down and move on.
3. Pay attention to the hands
Our hands are very expressive: the actors on stage pay special attention to their hands because a certain hand gesture can highlight or express an emotion without a word being said. Before you go to the meeting, choose the most comfortable position for your hands and see how it looks in the mirror. Your goal is a casual pose, which will make you look friendly and trustworthy. Do not cross your arms on your chest, do not cross your legs - it's a closed and tensed pose, which shows distrust and disagreement with your interlocutor. Tightly crossed arms on the chest demonstrate a defensive position; a recruiter might think that you have something to hide. Remember, if you are nervous, you may not notice these mistakes, that's why it is important to practice regularly and not to be caught napping during the interview.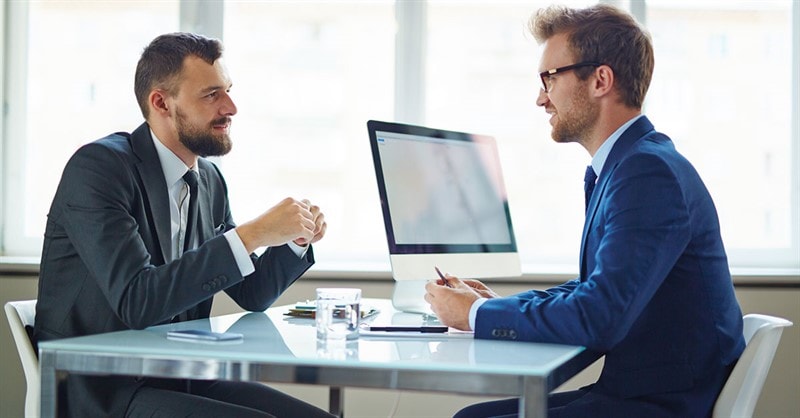 4. Avoid aggressive poses
Negative body language may become a fatal mistake and completely ruin the first impression. Even if it's comfortable for you to sit with an ankle on your knee and with your hands behind your head leaning back in chair - in this pose you look very hostile and intrusive, besides you're being disrespectful. Remember: you need to show respect and your friendly attitude using positive body language signs.
5. Make eye contact
Ability to make a strong eye contact during interview is very useful. Maintain a more permanent eye contact when you listen and let your look be more relaxed when you speak. It is best to look directly into the person's eyes, showing that you are following the conversation. But do not devour the interlocutor with your eyes: look around from time to time, and sometimes look into the person's face, checking if he is still involved in a conversation.
6. Handshake should be moderate
A job interview handshake is very important. All of us once happened to shake hands with a man who painfully squeezed our fingers or, on the contrary, stretched out a wet and limp palm. Both scenarios are disgusting. A proper handshake should be strong, energetic and concise. Do not forget to look into the eyes of your companion.
Remember: in negotiations, especially if the topic of discussion is difficult, one benefit more from being psychologically prepared and using confident body language.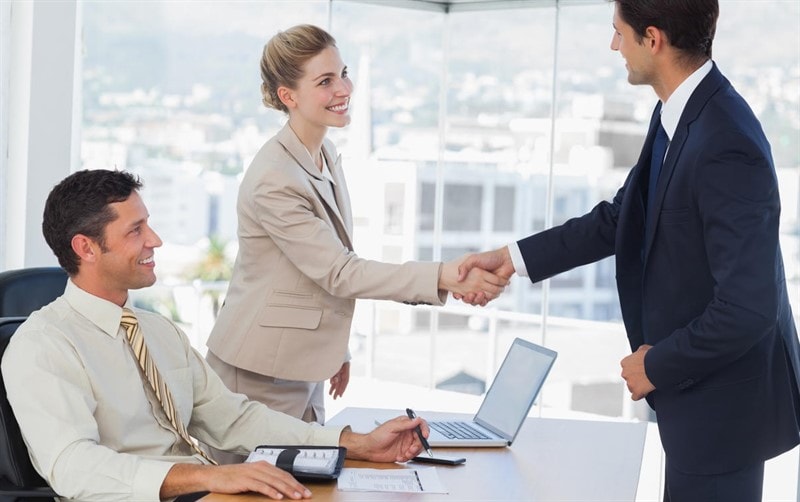 7. Use mirroring body language
Try to copy the poses that the interlocutor takes. If you manage to keep the same position with him, you will be able to control the course of his thoughts. After you have established the contact, take more opened poses step by step and if the interviewer starts to repeat the same movements - you've succeeded to make a connection. Do not allow your pose to contradict the pose of the interviewer.
Conclusions
According to psychologists, non-verbal cues in communication are much more important than verbal. According to the recent Survey on Emotional Body Gesture Recognition, 65% of the information your vis-à-vis receives comes from your gestures and facial expressions, while only 35% belong to actual words.
First of all, this refers to those applicants who, for various reasons, were fired from their previous job. Their self-esteem and self-confidence suffered considerable damage because their whole career was ruined. At the interview, these people look depressed and appalled even when it comes to their strong sides. Moreover, they are very easy to confuse by asking a relatively difficult question. They usually worry too much and try to hide it behind the mask of invulnerability and aggression.