Attain New Horizons with a Free Smart Resume Review
Avoid common resume mistakes
Unless you know recruiter personally or have a direct recommendation, your resume is the only first and last chance to make a good impression and be invited for the next stage.
Are you sure you would pass resume check? Does your resume have all the necessary sections and only strong action-oriented words are used? Are there no spelling errors and does the format provide a good overall aesthetic impression?
Get Resume Review
Land 2X more interviews with better resume
48%
Resumes pass AT system ATS algorithms used as a part of HR & Recruiting software scan resume and calculate score to find out if you match position.
8 seconds
Recruiters spend on one resume

Use your only chance to impress recruiters. Good formatting, mistakes free resume, correct section titles make you a good job to land an interview.
92%
applicants
Have ever made at least one of common mistakes

Find out typical resume mistakes job seekers usually make and check if you manage to avoid them and have more chances for an interview than others.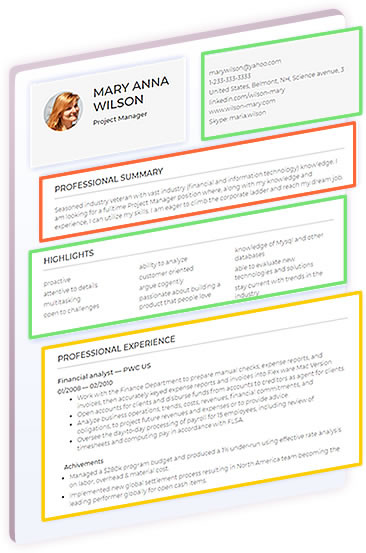 Get your resume evaluation
Scanning your resume through resume review service allows to identify 21 common resume problems, find out more information about formatting your resume and chances to be noticed. Check your resume score and if you are in the red zone follow the guidance to fix it. Pay serious attention to the feedback that Smart Resume Review provides, since it is designed by AI and based on most efficient resume scanner techniques. Run your check and see if you match criteria:
Resume length
Style & Formatting
Grammar mistakes
Proper resume sections
Objectives and motivation
Correct verbs and pronouns
Fix it based on your resume critique
88% of employers use Applicant Tracking systems to run resume checker to filter candidates and select those who match position most.
It's critically important not only to avoid buzzwords, personal pronouns, passive voice, grammar and spelling mistakes.
To ensure you will land an interview, describe properly your past experience and education, emphasize on tasks you have taken, indicate achievements and motivation.
Free Resume Review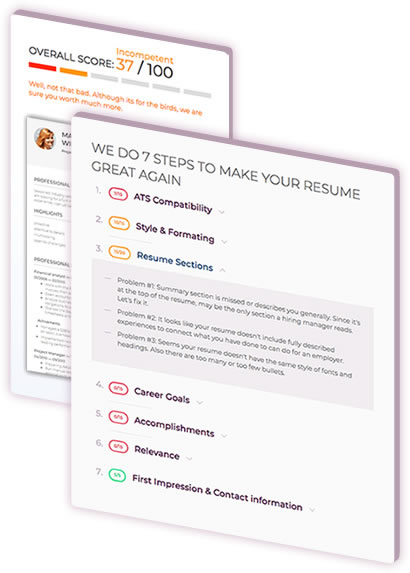 How a Resume Check Works?
Step 1
Upload a Resume
Select a resume and upload it into a system. Resume checker needs just 10 sec to screen a file.
Step 2
Land for a Free Resume Review
Go forward for the feedback and get resume score and an extended report with information what needs to be fixed.
Step 3
Get a Resume Critique
Each word of the resume gives a certain weight that creates negative or positive impression. Make sure your resume is professionally written and polished.