Open new Career Doors with a Free Smart Resume Review
Avoid common resume errors
You have only one shot at making a good impression on the recruiter and being invited for an interview. Even having a personal, friendly consultation from a familiar HR Manager cannot guarantee that your Resume will pass the ATS.
Are you 100% sure about your Resume? Are there no spelling issues, and all the stylistic devices used accurately? Does your Resume have all the necessary information and portraits you as a professional? Let our AI Resume Checker give answers to those questions.
Get Resume Review
Better Resume gives you twice as more interviews calls
47%
Resumes pass Applicant Tracking System

Not even half of resumes get a chance to be seen by the recruiter due to general issues in formatting, spelling and keywords optimization..
6 seconds
Recruiters spend looking at one Resume

You have to make sure your document attracts at first glance. Make sure your resume demonstrates your strongest professional experience and accomplishments.
97%

Majority of recruiters constantly rely on the Applicant Tracking System to evaluate the candidates during their hiring process and decide who should be noticed.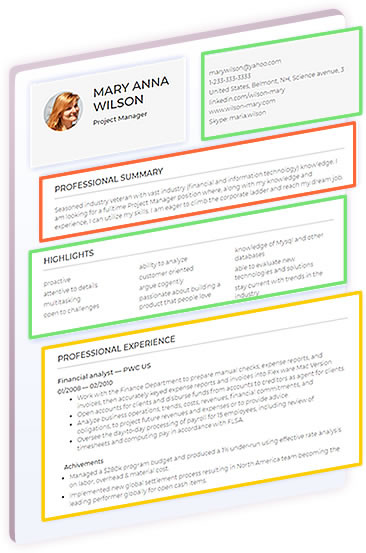 Get your resume evaluation
Scanning your Resume through a review service enables you to recognize 21 common issues, learn about the formatting and obtain useful tips on how to get noticed by recruiters. Get your resume score and follow the instructions to correct it if you are in the red zone. Please do not underestimate the feedback provided by Smart Resume Review, as it is AI-designed and based on the most effective resume scanner techniques. Make sure you meet the criteria of:
Resume length
Resume sections
Formatting
Grammar
Objectives
Keywords
Master your resume according to the feedback
88% of employers use Applicant Tracking Systems to filter candidates and select the best fit.
Avoiding buzzwords, personal pronouns, passive voice, grammar, and spelling errors is crucial if you aim to impress recruiters with your Resume.
Make sure that you accurately describe your work experience and education with the right emphasis on your core strengths and achievements. By establishing a strong professional profile, you highly increase your chances of getting a call for an interview.
Free Resume Review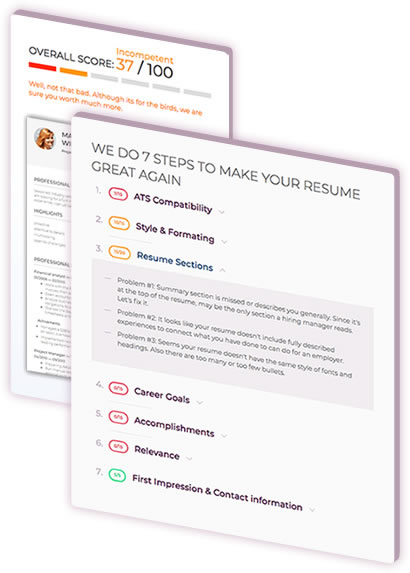 How does Resume Check work?
Step 1
Upload a Resume
Select a resume and upload it into a system in PDF, DOC, DOCX up to 5 Mb size.
Step 2
Log in system
Log in via E-mail, Facebook or Twitter to get Resume Review critique.
Step 3
Get the feedback
Receive an extended report with information on what needs to be fixed.
Frequently Asked Questions
What is a resume review?
Resume review is an instrument that helps to make your resume error-free, ATS friendly, and persuade recruiters that you are the best candidate for the position. It is valuable for job seekers because resume writing requires knowledge and an understanding of major principles that must be included in the document. Resume review is necessary for those who have prepared the document but want to make sure that it is made perfectly and correct possible inaccuracies.
How to review a resume?
To review a resume it is necessary to know all the requirements including the length, resume sections, formatting, keywords, and others. You can use Skillroads Resume Review service that recognizes 21 common problems and get tips on how to polish your resume so it could pass the ATS systems and impress the recruiters.
Where can I get my resume reviewed?
To review your resume you can receive assistance at resume writing services such as Skillroads. Our Resume Review tool involves AI to check if your resume is ATS-friendly and correctly written. When the resume is reviewed you get complete feedback on all the inaccuracies and mistakes, as well as tips on how to fix them. 
What is an ATS resume checker?
An ATS resume checker scans a resume in order to find out if the document is ATS-friendly. It means analyzing professional experience, expertise, education, and other relevant data as well as checking a resume for correct formatting, set of keywords, etc.
What is an ATS-friendly resume?
An ATS-friendly resume is a document that follows all the requirements of Applicant Tracking Systems that are used by most businesses to sort out unsuitable candidates. Before your resume gets to HR's hands it must pass an ATS machine, so to succeed in your job search you should make sure that your resume is ATS-friendly. It means that your document must contain a valid set of keywords, the most important data about you as a professional, must be done in the correct format, length, and so on.
What is the best resume checker?
Skillroads Resume Checker is one of the best scanning systems available on the market. It applies artificial intelligence to give you qualified and fast feedback on your resume. With Skillroads Resume Checker you can find out if your document is ATS-friendly, if it contains all the necessary keywords, if it has any mistakes and if it shows all the best of you as a professional. The tips that you get right after review can help you to polish your resume and get your desired job position.
How can I improve my resume score?
The best way to enhance your resume score is to follow the advice given to you after checking. Your score will improve when you correct the mistakes done and adjust your resume to the demanded formatting and other requirements.
What are the resume review and resume check?
Checking the resume is an important process. We check all the resumes thoroughly with the help of our professional resume experts. The resume review includes the resume scanner, resume evaluation and other similar checks. The resume checker is here to evaluate the quality of your resume and to determine whether it hits all the right spots, both in the way it displays the information about you, the way it looks and whether it aligns with your initial requirements.

The resume review is a process of examining the resume with the goal of searching for the flows and strong sides of it. There are lots of criteria that make up a good resume and a really effective resume should satisfy all of them. At the same time, the resume review has a lot of similarities with how your resume would be examined by your future employer so the free resume review online is a great opportunity to have a "first draft" before you start applying for the jobs with your resume.
What exactly is being checked? Can you rate my resume?
There is a huge number of common problems with resumes and the mistakes that people usually make. Resume evaluation takes on the examination of every part of your resume. Here's the list of the most common features that usually go into the resume score evaluation:
Style of writing and appropriate formatting.

We will make sure that the formatting is on point and everything is clear and cohesive.

Grammar, punctuation, typos and spelling.

Those mistakes are easy to miss but they can really spoil the impression about your resume. We will go through all your content to get rid of them.

Accurately named and divided sections of the resume.

The appropriate structure allows you to easily navigate your resume and gives a truly professional touch to it.

Appropriate content.

Our experts will ensure that the resume contains relevant work experience and doesn't omit necessary details.

Lengths and unnecessary information.

If you feel like your resume is too long, there are probably some details that can be taken out of it. We will help you to determine those details.
But most importantly, we focus on what you actually want. Your requirements for the resume will be a final argument in our evaluation process.
Why do you need a resume checker?
There might be lots of reasons for it. But most importantly, the resume reviewer allows you to get a better, more polished resume, that will demonstrate your professionalism and dedication. It is a great chance to test your resume's effectiveness and improve it before you start the job search. Finally, a resume ats checker may showcase the problems you haven't thought about before, such as the ATS - readiness, and having all the needed keywords.
How does our resume reviewer work?
The whole process of resume scanner test and resume evaluation usually takes three steps:
Step 1: Upload the Resume
This is a pretty straightforward process — just select the resume you would like to evaluate and upload it into our system. There, it will be scanned by our free online resume rater that will provide you with some initial, surface-level recommendations. The whole process usually takes no more than 10 seconds of your time to complete the check and will provide you with several results such as the ats resume checker free service.
Step 2: Land for a Free Resume Review Online
Now that you have had a look at some more obvious issues with the resume, you can have a more thorough review by our professional resume review specialists. This review would include an extended report on what there is to be fixed, with recommendations of how to do so. This process takes a bit more time but provides you with a wider picture. What is also important is that it is a resume review done by a real professional person.
Step 3: Get a Resume Critique
Now it's time for the polishing of your resume. With the flaws already corrected, we can now focus on improving your content in every way possible. Our skilled experts will provide the evaluation of every word in your resume, making the ideal version of it and answering your "test my resume" demand. The professional resume grader will ensure that your resume will give a positive impression to your future employer and that everything will be just fine.