For a candidate who hasn't planned ahead and neglected the interview preparation phase, a job interview might be a nerve-wracking experience. To avoid getting confused, it would be a great idea to find out what to say in an interview and what data should not be discussed. Certainly, every interview is specific, and to be prepared at your best it is reasonable to use a career coaching service where you can get help from a professional coach.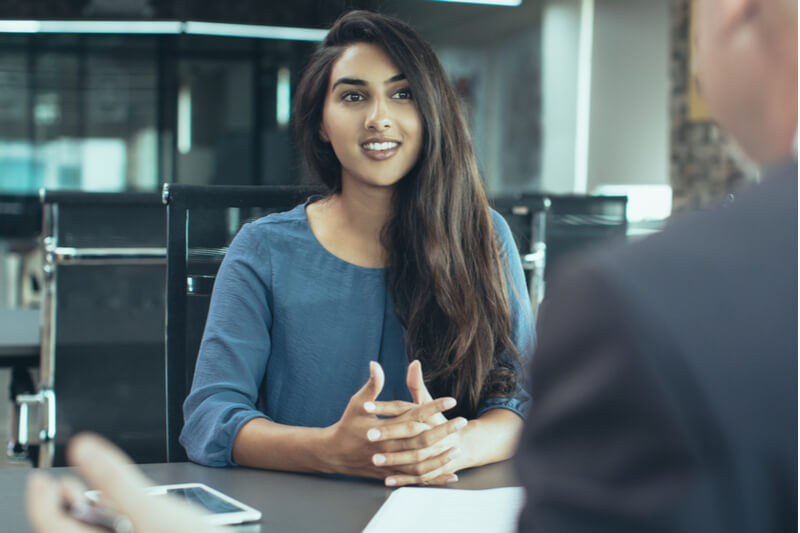 Nevertheless, all the interviews are aimed to check if the applicant suits the current opening. Therefore it is necessary to understand what to say during an interview to make hiring managers decide in your favor. 
A job interview is essentially a conversation in which you must understand how to begin, what to say during the dialogue, how to end it, and what to say afterward. Check out our guide below to help you feel more confident during your interview.
Best Things to Say in an Interview Beginning
The purpose of the initial few minutes of the interview is to make a positive impression on the hiring manager. This is where you introduce yourself as a professional and demonstrate your understanding of the organization to which you are applying. It would be wise to present yourself as a responsible, hardworking, passionate, and polite expert in your field.
Here's a list of phrases to use at the start of the interview; keep in mind that you don't have to use them all; you simply need to get a sense of the situation.
Begin the interview with a friendly greeting: "How are you today? It is nice to meet you!"
Introducing yourself with a handshake and a pleasant attitude promotes professionalism and develops rapport.
Express gratitude to the hiring manager for taking the time to meet with you.
After introducing yourself, thank your interviewer for the meeting. This shows that you value their time. While interviewing you is part of their job, expressing gratitude for their time can make you appear grateful for the opportunity.
Tell what you know about the company: "I've already done a lot of research, and I'm looking forward to learning more about your organization from you."
Interviewers admire applicants who take the initiative to learn more about the company prior to the interview since it shows that you are still interested in working for them after conducting your research. Despite the fact that you are the one being interviewed for the job, your desire to learn more about the company indicates that you require further information to assess whether the company is a good fit for you.
Make it clear that you're a good fit for the job: "I looked over the job description and it matches my experience and qualifications well. I'm looking forward to discussing these with you further."
As we said before the main goal of the interviewer is to figure out if you are a good match for the position, so pointing to it would be a plus. Mentioning that you're familiar with the job description shows that you're interested in the role right away. You might demonstrate your attention to detail by describing why particular features of the job description prompted you to apply and interview for the job.
What to Say During an Interview
When you start worrying about what should you say in an interview remember that as the interview progresses, your major focus should be on attentively answering the interviewer's queries. During the interview, it's a good idea to ask questions, show interest, and emphasize the abilities you have that make you a good fit for the job.
Rather than simply stating that you are an excellent fit for this role, explain why.
To identify which qualifications are most beneficial, review the job advertisement and match its requirements to your CV ahead of time. Then, from your own experience, provide examples of real-life interactions, success stories, and achievements.
While speaking about your experience in similar roles, point out the value you can bring to the company.
As part of the standard protocol, the interviewer will most likely ask you questions regarding your previous work experience. What you must remember is that while your experience is important, the value that your employer may derive from it is decisive. If you include a description of how the organization will benefit from hiring you, it will almost certainly boost your overall impression.
Emphasize your ability to learn.
It's vital to say that you can quickly comprehend the tasks when an interviewer asks about your talents to execute the job you're applying for. If you don't have any experience with the duties that are directly related to the position, this could be a valuable addition because the employer will want to see how rapidly you pick up new skills. To persuade the interviewer to give you a chance despite your lack of experience, prepare to demonstrate how you learned various job obligations and skills in previous career encounters.
Mention that you are a team player.
Even though certain professions require you to be able to work independently, recruiters may want to know that you can work well with others. Consider sharing previous collaborative experiences with the employer to illustrate your teamwork, empathy, and communication skills.
Finishing the Interview
Thinking ahead about the things to say at a job interview must include preparing your questions for the hiring manager. The opportunity to ask questions at the end of the interview is critical in order to demonstrate a genuine interest in the organization. You should also show social fluency by gently ending the interview.
Mention that you've done some research about the company and ask for additional information that you weren't able to find.
Express your excitement for the information you've learned about the job and underline what impressed you the most. Ask extra questions to show your interest in this exact job position and the company. Hiring managers will certainly appreciate your enthusiasm. Pay attention to remain polite and never be compulsive or provocative.
Inquire about the company's objectives.
Many organizations have objectives that express their long-term vision. Inquiring about their current business goals suggests that you want to contribute to their team and go above and beyond your absolute minimum requirements. Learning about the company's objectives can also help you determine whether or not you want to join it.
Ask about the next steps you need to take.
Inquiring about your next steps in the process demonstrates that you are serious about the job. You will know what the next steps are before leaving the interview rather than waiting for the interviewer to react.
You should thank the interviewer for taking the time to chat with you.
Before exiting the interview, convey sincerity and respect by thanking the recruiting manager for their time. By demonstrating that you value their time, you can show a high level of professionalism.
After the Interview
It would be professional to send an email thank-you note after the interview. In this following letter you need to:
Express that you enjoyed the interview.
Thank the hiring manager for their time.
Declare your excitement about the opportunity.
Reaffirm your qualifications for the job.
Maintain open lines of communication in case they have any other questions.
Final Word
It takes time and attention to detail to prepare for a job interview. You must know everything there is to know about the organization to which you are applying, as well as how to present yourself in the best light possible. Unfortunately, there is no magic cheat sheet that provides applicants with what to say at a job interview to get the job. If the interview really means a lot to you, you should make every effort to prepare well. To get the desired job, it is reasonable to seek assistance from professional career coaches who will gladly help you to get ready for any question you can face during the interview.