Creating a well-written and professional-looking resume is a tough task. Hiring managers spend on average 6 seconds to skim applicant's resume. So, if you want to grab recruiter's attention, you have to make sure your resume is clean and informative. You have to arrange all your skills and achievements and organize your work history in an easily readable way. Therefore, it's of paramount importance to determine whether you will use bullet points or paragraphs. In fact, it is one of the most common questions we get from job seekers, so, check out the best resume writing tips and let's discover when you need resume bullets or paragraphs.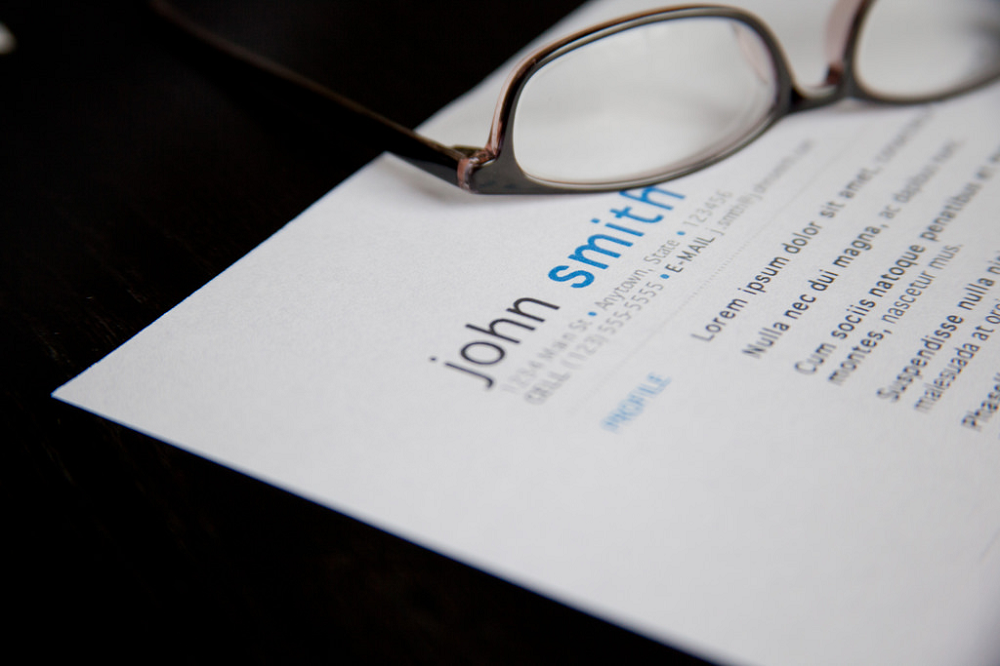 Resume bullet format
A bulleted form of a resume is considered as the best resume format. It has a highly professional look and it gives a reader an insight into your main duties and responsibilities. It is possible to read it fast and understand with ease. It also allows you to display your work background and share what you have achieved and it will definitely grab recruiter's attention. Moreover, you don't have to be a good writer to create a bullet-point list. It should look like this:
increased sales by X within Y years
organized training sessions for new employees
monitored the performance and provided reports
collaborated with different departments to improve company's effectiveness
built trust relations with key partners and stakeholders
oversaw diverse operations and business activities to ensure the best-desired results
Here is how you should use bullet points in your resume
use up to 5-6 points for each position. If you have a lot of information, try to make a list of the most important duties you have performed and the biggest achievements.
for the old or irrelevant experience you can include only 2-3 bullet points; put emphasis on the recent positions.
start each point with strong action verbs - trained, managed, improved, executed, performed, reduced, isolated, directed, initiated, captured, challenged, generated, streamlined, accelerated, amplified, astonished, captivated, combated, delighted, energized, exposed, guaranteed and so on.
the first bullet has to be the most grabbing and outstanding.
don't be afraid to experiment and use creative bullet points.
Resume paragraph format
A half of all applicants use paragraphs in their resumes. But in fact, a long paragraph is not the most effective way to present your work experience. The power of your statement can be lost because of the big amount of unimportant and unnecessary words. Still, you can use short descriptive paragraphs if you are a good writer and in case you don't have some major accomplishments or you don't have any impressive jobs to include. Paragraphs take a lot of time to read it and, frankly speaking, it's boring and tedious. It will be difficult to a hiring manager to keep an attention on all the information. Besides, no recruiter will ever read a whole resume - they just skip it. If it's difficult to read, your resume can even be dismissed. In addition, nowadays almost all recruiters use Applicant Tracking System that helps them to handle hundreds and even thousands of different resumes for a single job opening. It can pre-screen a CV for some keywords in relevant experience and skills sections. So, in order to increase your chances to pass ATS, it's better to use bulleted list.
Which better to use in your resume?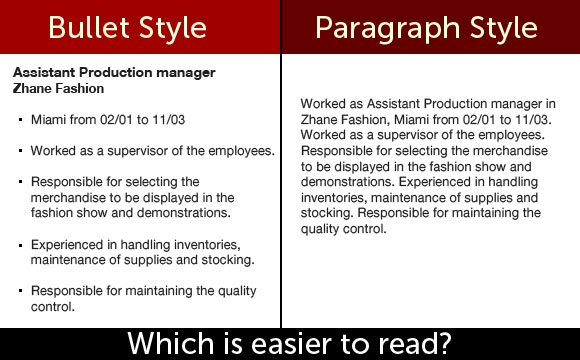 In some rare cases, paragraphs can be applicable - only if you don't have much to say about your previous work history and you are capable of writing engaging short paragraphs. Then it can become your advantage. But in most circumstances and especially if you are not certain about your writing skills, it's better to restraint and while listing job duties on resume it's highly advisable to use bullet-point list. It allows your recruiter to flick through your resume faster and to grasp the main idea of your essential duties, responsibilities, and skills.
You already know the best-recommended resume format and when to use bullet points and paragraphs. Now the resume writing process will be so much easier for you. Use these simple tips in order to create a perfect resume that will set you apart and will get you selected for an interview. Good luck with your job search!