The stereotypical picture of a tender mother and a 'breadwinner' father has been shifted a long time ago, and now family friendly companies become more and more popular. According to the Pew Research Center study, 69% of Americans think that working men should have paid paternity leave as well as women. In this way, companies that offer child care make the life of a working dad easier and not only invest in the collective future but also create a benefit that leads to strong workplace culture. Even though the stay at home jobs for dads trend hasn't spread globally, there are already some top companies that offer daycare at work.  Here are 10 of them.
Netflix
Netflix employment benefits include up to a year of paid paternity leave. During this time, parents are free to choose whether to work or stay at home with their newborns. For those who want to be at the office, days off and schedule are totally flexible. To prove that Netflix parental leave wasn't just a marketing stunt, CEO Reed Hastings took six weeks off just after the announcement.

Amazon
Amazon provides 6 weeks of fully paid parental leave, and it's offered not only to full-time corporate employees but also to warehouse workers. Amazon parental leave eases employees back into full-time by allowing to work at 50-75% of their week for up to 8 weeks. The cool thing is that the company allows employees to share their six-week leave pay with a spouse or partner not being offered paid parental leave by another company. 
Microsoft
Microsoft extended paid parental leave from 2 to 6 weeks for all new parents and from 12 to 20 weeks for the primary care. The company also offers a child care subsidy of up to 20 percent of tuition at national providers near its offices around the country. If that isn't enough, Microsoft parental leave includes 4 weeks of fully paid days off for people who have to care for a family member with a serious health condition.
Twitter
Twitter definitely is the winner among companies that offer paternity leave in America. The company offers 20 weeks of paid leave and hooks up employees with a parent discount on goods and services specifically for moms and dads. "Dads On Leave" roundtable is one more advantage that Twitter offers for new fathers. This is a forum for fathers returning from leave to give them a short preview of what's to come and to keep them tuned.  
Bank of America
The company offers 16 weeks of paid parental leave to both full-time and part-time working fathers. It's important to mention that approximately 96% of working fathers take advantage of this benefit. That means the Bank of America child care reimbursement policy delivers the information about all the benefits correctly and connects employees to the resources available. BoA also offers backup childcare allotment of 25 days and adult care allotment of 25 days for when a caregiver is not available.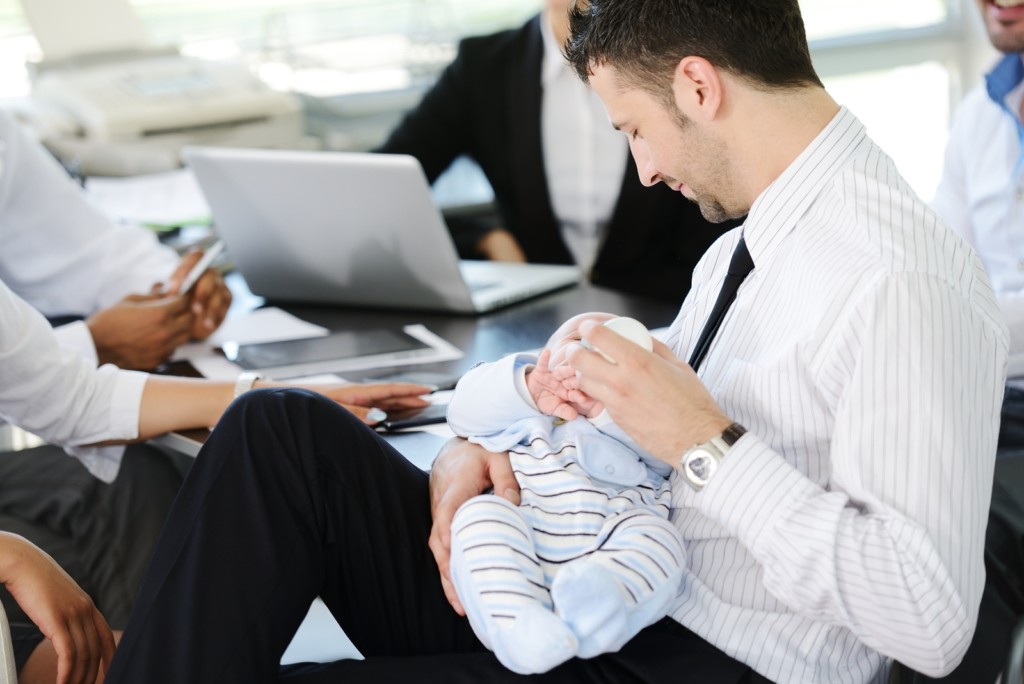 IBM 
IBM is among the companies that offer paid paternity leave for not only new mothers but also new dads and adoptive parents. The paid maternity leave is increased to 20 weeks. Fathers can stay at home with a child for 12 paid weeks, which is double the previous benefit of 6. IBM also provides perks for adoption and surrogacy assistance up to $20,000, as well as up to $50,000 reimbursement for applicable services for children with mental, physical, or developmental disabilities.
Patagonia
Patagonia is one of the best places to work at if work-life balance matters a lot to you. The company provides expecting parents with tips on childcare and development. Fathers are given 12 weeks off in the child's first year. One more backup care advantage is a childcare professional who will keep an eye on a child in case of a business trip. Patagonia offers preschool and afterschool programs at its headquarters and adoption assistance. 
Spotify
Spotify's family leave policy is the most flexible among the bunch. It allows parents to use their 24 weeks of paternity paid leave as they want. Don't want to take all in one go? You're free to choose. Spotify's "Focus on Fatherhood" internal group plans dad-centric activities and programs, hosts a Fatherhood Breakfast Series which brings together Spotify male employees for a breakfast discussion about balancing work and life responsibilities and connecting with kids. Among other corporate perks are childcare subsidy, backup support for parents in case of emergency and aids for parents trying to conceive and adopt.
American Express
One of the family friendly companies to work for that will be a pleasure for every new father is American Express. They encourage employees to take the allotted 20 weeks of paid parental leave by using their internal #dontmissamoment campaign. They have a program focused on fatherhood development and encouragement. Amex also provides dads with morning talks about a successful combination of personal and family life when a child was just born. 
Airbnb
Airbnb provides all U.S.-based workers who became parents with 10 weeks of paid leave, as well as the ability to transition back to work with a four-day week for eight weeks after that. The company perfectly understands the need for time off for fresh daddies and some flexibility when they return. 
Getting a bird's-eye view, we must admit that the companies that offer free daycare for new fathers are making a huge change in our mindsets. Because the thing is not only about offering a day, a week or a month off or proposing a paid leave, the thing is to make people satisfied with the work they do and feel that the company cares about their life fulfillment.