Giving birth to kids is a vital condition for our biological and economic survival. At the country level, economic growth behooves parents to bring out as many future employees and taxpayers as possible. Unfortunately, women still must make a choice between career and family due to the weak maternity leave laws in our country. Forbes states the USA can't remain a global economic leader without providing paid family leave for citizens. Are there any ways to defend your rights and enjoy the happiness of parenthood? Let's try to find out.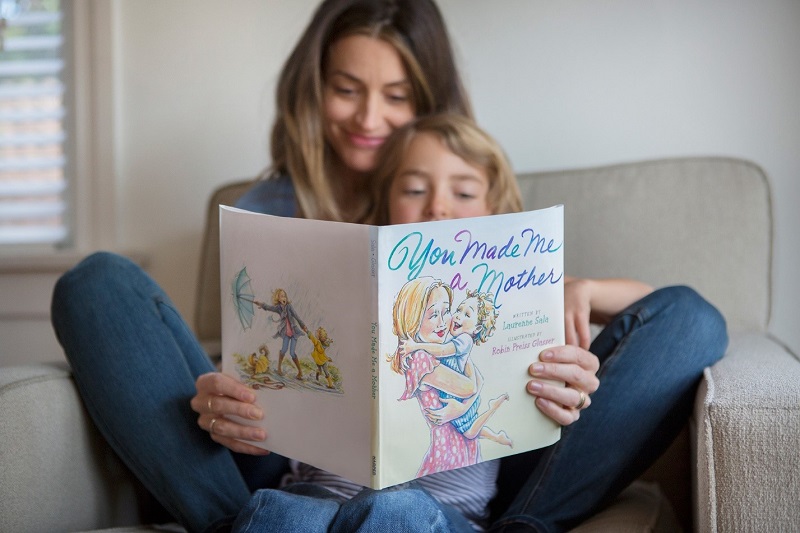 Zero Weeks of Paid Leave Under Federal Maternity Leave 
Unlike laws protecting women's rights in many developed European and Asian countries, maternity leave in the US doesn't provide women with such standard policies that require to fund pregnancy leave. According to the Agriculture Department statistics, it usually costs more than $233,000 to raise a child from birth to age 18. Taking into consideration the amount of work required to raise the child—general care, nutrition, education, etc.—both parents can't work and look after the child at a time. The biological realities of childbirth are that it is the mother who takes time off work and sacrifices her career to baby's upbringing. Hence, family income is curtailed and doesn't recover fully for an extended period. 
States with Paid Maternity Leave 
California, New Jersey, and Rhode Island are three states that currently offer paid maternity and medical leave. Beginning on Jan. 1, New York is the fourth state to pass up to eight weeks of paid family leave. California maternity leave policy protects you more than anywhere else in the country. Pregnancy-related illnesses are considered disabilities by California law; thus, women have a right for disability insurance payments during the leave. In this respect, the definition of "disabled" is rather broad. It includes the loss of a child, postpartum depression, bed rest, gestational diabetes, preeclampsia, postnatal care, childbirth, prenatal care, etc. 
FMLA Maternity Leave Regulations 
The Family Medical Leave Act (FMLA) is a federal law that gives you the right to take up to 12 weeks off work per year for caring for a new child and due to other health reasons. It includes both maternity and paternity leaves and gives you the right to return to your work. FMLA leave is unpaid, but you can use your so-called sick leave to get paid for at least a short period of time. Read general FMLA rules and exceptions to check your possibility to apply. 
You have to meet 3 essential requirements: 
you have worked in the company for at least a year
the employer has at least 50 employees within a 75-mile radius
you have worked at least 1,250 hours for your employer in the 12 months (about 24 hours per week)
The FMLA adoption policy applies to women who give the baby up for adoption right after the birth. In order to recover physically and mentally from the childbirth, a woman can stay at home for a certain period of time.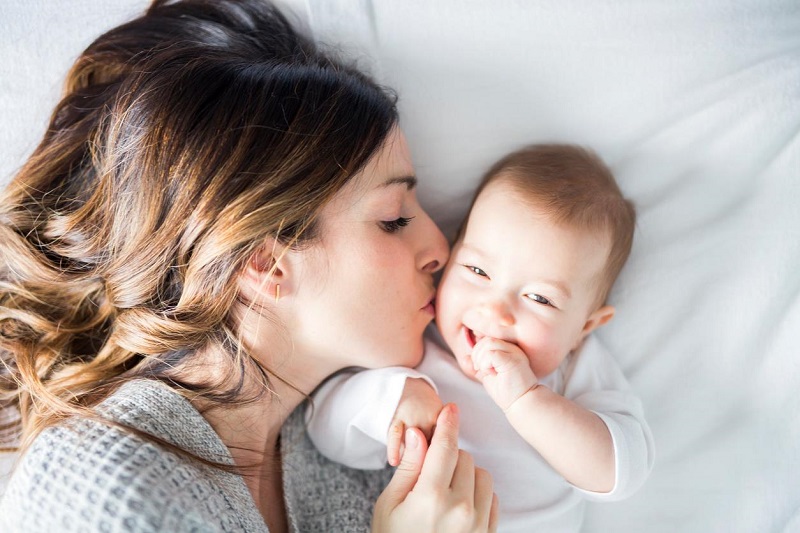 If You Are Disabled Due to Pregnancy 
As a result of pregnancy, a new mother can face a wide variety of health issues such as hypertension, hemorrhage, diabetes, inflammatory disorders, etc. Check the SSA Disability Blue Book to know if you meet the requirements to apply for help. You are allowed to take 6 weeks maternity leave or prolong it up to 4 months with  Pregnancy Disability Leave. There's a chance to receive a short term disability insurance for maternity leave if already pregnant. Disability is among the reasons to take early maternity leave. Search the Internet for your state's disability insurance policies. 
Discrimination and Harassment Are Strongly Prohibited 
Can you get unemployed while on maternity leave? The thing is that your employer has no right to fire you because of pregnancy. When you return to work after maternity leave employers rights allow them to fire you only if you'd been a lousy employee before leaving. By the same token, potential maternity leave isn't the reason to hire a male employee instead of female—it's considered discrimination. New York Times recently brought to light examples of pregnancy discrimination in the largest US companies. Protect yourself and rely on The Pregnancy Discrimination Act, FMLA, The Civil Rights Act of 1964.
Have a Reserve of Days 
Start saving up sick and vacation days. It will significantly extend your leave. Of course, it's relevant for women who are just planning the pregnancy in a year or more, but not for those who are already pregnant.
How to Get Paid Maternity Leave and Other Questions You Need to Ask 
Whether you are already employed or just searching for a new job, it's wise to find out the company's maternity leave policy. 
Here are some questions to ask HR about maternity leave:
What kind of paid and unpaid maternity leave is available?
Am I covered by the Family and Medical Leave Act or any other state laws?
What happens to my position while I am on maternity leave?
What policies does our company have to support new parents?
Are there minimum maternity leave or part time maternity leave available?
What are other maternity leave options? 
Try to find out as much information as possible. Average maternity leave lasts six weeks, but you may need more time because of postpartum depression or encountered complications. Ask if FMLA leave will run concurrently with the leave your company provides. To put it simply, ask if your employer allows you to take six paid weeks first and then an additional six unpaid under FLMA.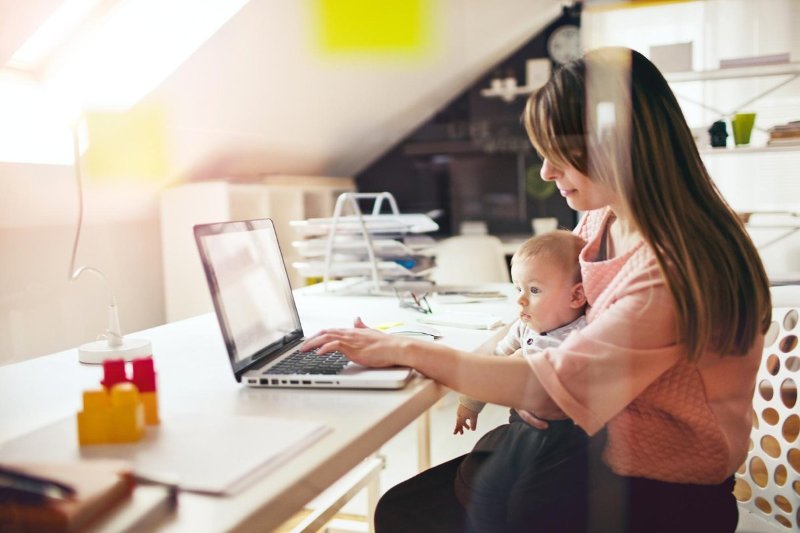 Work Distantly from Home
We already mentioned that children upbringing is a quite expensive deal today. You will probably need some extra sources of income to cope with bills and other household expenses. Request for work from home due to pregnancy if you feel you're not able to work in the office or take some remote work after childbirth. Ask your husband, relatives or friends to present you a few hours per week to spend working alone (and relaxing a bit). Even a much smaller salary is better than nothing. In addition, you'll keep up to date with all the latest news, new projects and advents in the company. Thus, it will increase your chances to go on working in the same position once your leave is over.
Form a Parent Professionals Group at Your Office
I'm sure you're not the only parent in the company. Firstly, united attempts will raise the issues of working parents. Secondly, there's a higher chance your complaints will be heard and applied accordingly. Co-workers will help you find the answer to the question of how to negotiate with your boss and support your attempts to take action.
Make Your Voice Heard Outside Your Workplace
Silence is a sign of acceptance. If you don't accept the violation of women's rights, speak your mind. In a critical situation when your rights have been brutally abused—you got fired or received a refusal to go on family leave—let the media bring it to light. Reach local or nationwide newspapers and TV channels. Tell them your story.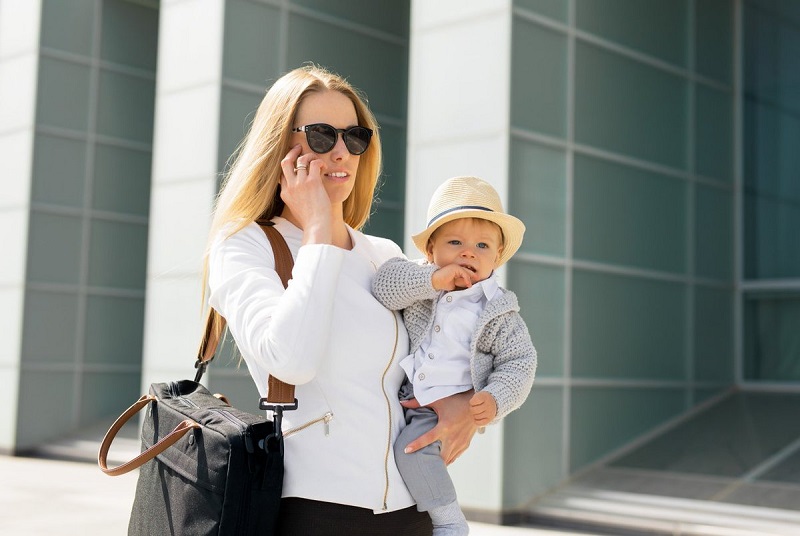 5 Companies with Paid Maternity Leave for Birth and Adoption Parents 
The biggest companies have gone above and beyond the standards regarding the leave and offer a considerable amount of time to enjoy the first year of a kid's birth. What's more, maternity leave for adoptive parents is provided almost on the same conditions as time off for pregnancy. US companies that offer paid maternity leave are listed below. 
1. Amazon Family Policies
Amazon employment policy provides a unique "Leave Share" option and a flexible return-to-work program called "Ramp Back." Almost a year is offered to bond with a new baby.
2. Netflix Family Plan
One of the Netflix career benefits is unlimited paid parental leave. A generous amount of time off is given to take care of a newborn. Employers receive maternity leave for adoption on the same basis. Parents never lose their job and come back to work once they feel they're ready.
3. Google Maternity Leave
Google employee perks grant from 18 to 22 paid weeks to biological mothers and up to 12 weeks of maternity leave for adoption. New parents receive a cash gift for a baby.  
4. Facebook Family Leave
Facebook employee benefits offer up to 4 months leave for new parents. It's possible to split time throughout the year. In 2017, Facebook CEO Mark Zuckerberg took 2 months of Facebook paternity leave himself. 
"At Facebook, we offer four months of maternity and paternity leave because studies show that when working parents take time to be with their newborns, it's good for the entire family. And I'm pretty sure the office will still be standing when I get back."- says Zuckerberg.
5. Family Leave at Microsoft 
Microsoft is one of the best maternity leave companies. Birth mothers receive up to 20 weeks of paid maternity leave while foster and adoptive families get up to 12 weeks. Employers are also allowed to leave work to care for a seriously ill family member.